MA in Catholic Studies Program
The MA in Catholic Studies Program will be offered starting fall 2020, pending approval by the Ohio Department of Higher Education and the Higher Learning Commission.
See the World With Catholic Eyes
What does it mean to see the world with Catholic eyes?
It means seeing God's hand working in human history to save us, guide us, and lead us to him.
It means seeing a world where art and architecture, food and literature, politics and psychology, poetry, and sport can all be occasions for grace because they all can teach us about God and give glory to God.
It also means seeing the true, the good, and the beautiful, understanding that to know the truth is to know God, to desire the good is to desire God, and to love the beautiful is to love God.
In short, seeing the world with Catholic eyes means seeing the world as God always meant us to see it. It means seeing the world as it truly is.
And that is what a Master of Arts in Catholic Studies from Franciscan University of Steubenville Online can give you: the ability to see reality.
A Cross-Curricular Program
Franciscan University's Master of Arts in Catholic Studies offers you an integrated Catholic vision of the world through a cross-curriculum program of study that combines theology and philosophy, history and literature, science and art.
You will take four core courses that examine Catholic culture and thought from ancient times until today. To fulfill the remaining credit requirements, you will choose from an array of electives, including courses such as Philosophy of Religion, Natural Law and Natural Rights, Virtues and Morality, and more.
This combination will give you a framework around which you can build your life. It will make it possible for you to ground your professional pursuits—in law, education, business, communications, the arts, or elsewhere—in the Catholic vision of reality.
It will help you cultivate the true, the good, and the beautiful through your work in the wider culture.
And ultimately, it will draw you closer to Jesus Christ—who is Truth, Goodness, and Beauty—and help you follow in the footsteps of the saints, whose faith built a civilization rooted in Christ.
Program Admission Requirements
Provide official transcripts for your bachelor's degree.
Official transcripts may be emailed to

[email protected]

 Or mailed to:
Franciscan University of Steubenville
1235 University Boulevard
Steubenville, OH 43952
Attn.: Online and Graduate Enrollment
For more information, contact:
Thomas S. Weishaar
Director of Online Enrollment
Franciscan University of Steubenville
Phone: 740-283-4410 | Fax: 740-284-5456
[email protected]
The academic catalog link for this program will be available soon.
Inquire For More Information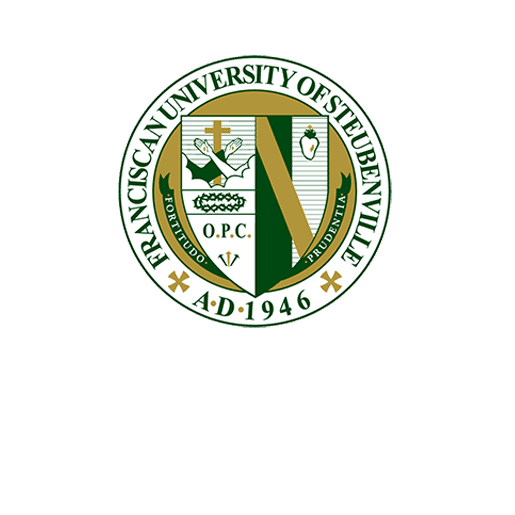 [opn_navigator nav_position="right" nav_distance="10″ nav_opacity=".85″ icon_size="15″ bg_color="#21412a" icon_color="#ffffff" icon_hover_color="#ffc658″ on_row_bg_color="#ffffff" on_row_icon_color="#21412a" on_row_icon_hover_color="#ffc658″ tooltip_bubble="on" tooltip_font="font_family:Roboto Slab|font_call:Roboto+Slab|variant:700″ tooltip_font_style="font-weight:700;" tooltip_font_size="22″ tooltip_font_line_height="30″ scroll_effect="easeInOutQuad" icon_padding="padding-top:20px;padding-right:5px;padding-bottom:20px;padding-left:5px;"][opn_navigator_item title="Back to top" target_link="#top" icon="Defaults-arrow-up"][opn_navigator_item title="Program Details" target_link="#details" icon="Defaults-th-list"][opn_navigator_item title="Alumni Profiles" target_link="#alumni-profiles" icon="Defaults-comment"][opn_navigator_item title="Program Faculty" target_link="#faculty" icon="Defaults-group"][/opn_navigator]