Department of Philosophy
READ ARTICLE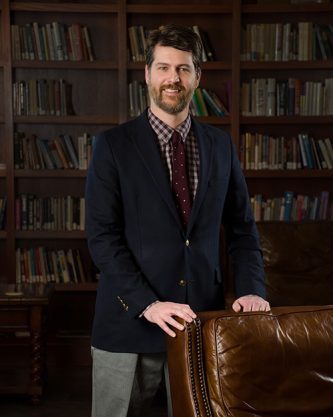 Dean, School of Theology and Philosophy
Director, Online AA in Philosophy
Graduate Status Faculty
Professor of Philosophy
Professor Paul Symington graduated magna cum laude with a B.A. in Philosophy and Religion from Roberts Wesleyan College in 1998. He received an M.A. in Theology from Northeastern Seminary in 2001 and an M.A. in Philosophy from Boston College in 2004. He graduated from the State University of New York at Buffalo with a Ph.D. in Philosophy in 2007. He then taught for one year at the University of San Francisco before receiving a position in 2008 at Franciscan University of Steubenville.He was a Service-Learning Faculty Fellow at the University of San Francisco and received a NYS Professional Development Award from the State University of New York at Buffalo in 2007. He is a member of The Society for Medieval and Renaissance Philosophy, The American Catholic Philosophical Association, and The American Philosophical Association. His research is mainly focused on areas in metaphysics and medieval philosophy
Ph.D., Philosophy, University at Buffalo, 2007. Dissertation: "The Identity of the Categories: Aquinas, Scotus, and Lowe." Committee: Jorge J. E. Gracia (chair), Barry Smith, Jiyuan Yu.
M.A., Philosophy, Boston College, 2004. Qualifying Exam Committee: Eileen Sweeney, William Richardson, Ronald Anderson.
M.A., Theology, Northeastern Seminary, 2001. Master's Thesis: "Thomas Aquinas's Use of Hylomorphism in Defining Key Theological Concepts." Thesis Director, David Basinger. Page 2 of 9 B.A., Philosophy & Religion, magna cum laude, Roberts Wesleyan College, 1998.
Graduate

Analytic Thomism
Ethics of Health Care Law & Social Policy
Foundations of Bioethics
Selected Issues in Metaphysics: Categories
Selected Issues in Metaphysics: Medieval Metaphysics
Selected Issues in Metaphysics: Modes of Being
Selected Issues in Metaphysics: Personal Identity
Special Topics: The Philosophy of Peter Van Inwagen
Texts of Aquinas

Undergraduate

Ancient Greek Philosophy
Contemporary Philosophy
Ethical Theory and Practice (Service Learning)
Ethics
Introduction to Philosophy
Logic
Medieval Philosophy
Metaphysics
Philosophy of Human Person
Philosophy of Religion
Thomistic Traditions in Philosophy
World Civilization I & II (Recitation Instructor)