Department of Philosophy
READ ARTICLE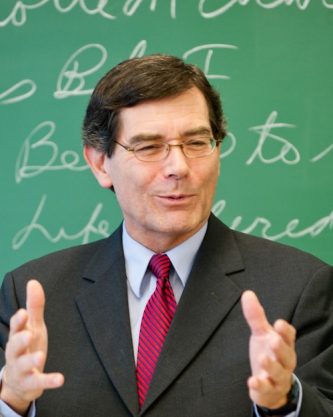 Graduate Status Faculty
Professor of Philosophy
Dr. Michael J. Healy served as Dean of the Faculty (chief academic officer) under Fr. Michael Scanlan, TOR (President) at Franciscan University of Steubenville from 1986-2000. During the 2002-2003 academic year, he served as interim president of Ave Maria College while on leave of absence from Franciscan University. He then returned to Franciscan to resume his position as full professor of philosophy, where he specializes in philosophy of the person, ethics, existentialism, and philosophy of religion. He has a special love for Kierkegaard, von Hildebrand, and Wojtyla interpreted in light of and in dialogue with the philosophia perennis. His favorite author in the Thomistic tradition is Josef Pieper. His favorite course is The Nature of Love, wherein he uses the works of all four of the above.
Dr. Healy earned his B.A. from Loyola University of Los Angeles (1972, now Loyola Marymount University) and his M.A. (1975) and Ph.D. (1978) from the University of Dallas.
He has taught at the Seminary College of St. Pius X, Erlanger, KY (1979-1982); for Cardinal Newman College, St. Louis, MO (1982-83), for the International Academy of Philosophy, Irving, TX (1983-85) [now Liechtenstein, Europe and Santiago, Chile] where he also served as M.A. Director and Administrative Assistant; and for the University of Dallas, Irving, TX (1985-86), where he also served as interim Dean of Students.
He has served as vice president of the Fellowship of Catholic Scholars (1998-2002) and was on the FCS Board of Directors from 1988 to 2002. He also serves as president of the Christus Magister Foundation promoting Catholic higher education and is a Board member of Sophia Institute Press. He has been a Board of Trustees member of St. Mary's College of Ave Maria University (Chairman of Board, 2001-2003), of Ave Maria College of Michigan (1998-2003) and of Ave Maria University of Florida (2002-2003). He has been a regular consultant for the Ave Maria University-Latin American Campus in Nicaragua.
He has published articles and given addresses in the areas of metaphysics, epistemology, aesthetics, philosophy of language, philosophy of the person, ethics, and philosophy of religion. He has been a guest professor at the International Academy of Philosophy in Fürstentum, Liechtenstein. He recently published an article on-line at InsideCatholic.com (formerly Crisis magazine), When Kung and Von Hildebrand Came to Loyola, an event occurring in 1971 during his undergraduate days.
Over the past two years, he has given talks at Franciscan University, at Ave Maria University, at the Personalist Institute in Philadelphia, and at the Ave Maria campus in Nicaragua. His topics have included The Virtue of Studiousness (published in the Nicaraguan Academic Journal), Von Hildebrand on Sexuality, and two existential questions on hell raised by Hans Urs von Balthasar. These latter considerations will be published later this year in a festschrift for Dr. Josef Seifert's 65th birthday, The Love of Truth: Every Truth and in Every Thing, published by the International Academy of Philosophy, entitled "Hell: A Phenomenological Analysis." The two questions addressed are how is eternal pain compatible with a God of perfect love and how could I be happy in heaven if someone I love ends in hell. He did a joint presentation on sexuality with Christopher West in May 2009, in Philadelphia.
As Dean at Franciscan University, he provided the initiative for the establishment of the Philosophy Department, the M.A. in Philosophy, the Honors Program in the Great Books of Western Civilization, majors in Humanities and Catholic Culture, Classics, and Social Work, and minors in Music, German, World Literature, Human Life Issues, and Catechetics. He also presided over the launch of Master's programs in Philosophy, Counseling (with Christian Counseling certificate), Nursing, Education and Educational Administration.
As Dean at Franciscan University and as President at Ave Maria College, Dr. Healy continued to teach philosophy (one course per semester) and has now returned to full-time teaching, which is his first love.
He has a book on Karol Wojtyla's philosophy conditionally accepted for publication by St. Augustine press (dependent on securing the necessary copyrights):
A PRIMER IN THE PHILOSOPHY OF JOHN PAUL II—IN HIS OWN WORDS:
CLOSE-TO-THE-TEXT SUMMARIES OF HIS THOUGHT ON PERSON, LOVE, AND SEXUALITY PREPARED BY DR. MICHAEL J. HEALY AS AN AID FOR HIS STUDENTS IN PHILOSOPHY AT FRANCISCAN UNIVERSITY OF STEUBENVILLE, WITH TIMELINE AND BACKGROUND.
B.A. from Loyola University of Los Angeles (1972, now Loyola Marymount University)
M.A. (1975) – University of Dallas
Ph.D. (1978) – University of Dallas