Department of Philosophy
READ ARTICLE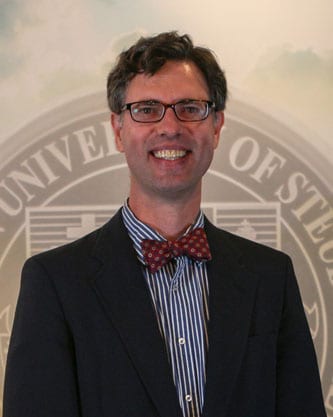 General Editor, Quaestiones Disputatae
Assistant Professor of Philosophy
Dr. Alex M. Plato is an Assistant Professor at Franciscan University of Steubenville and resides with his wife and children in the city of Steubenville, Ohio. He was born, just eleven minutes after his twin brother, on January 9th, 1979 in Lakeview, Oregon, an idyllic town with more cattle than people.
Dr. Plato received a Bachelor of Science in Interdisciplinary Studies summa cum laude from Corban University (then Western Baptist College) in 2002. His interdisciplinary studies included several areas of concentration: music, theology, philosophy, literature, and education. In his final year he received the Graduate of the Year award and the year following was invited to be the first Alumni speaker of the Dr. Richard L. Caulkins Annual Lectureship. In 2007, he earned a Master of Arts summa cum laude in the Philosophy of Religion and Ethics from Biola University's Talbot School of Theology. In December of 2014, at Saint Louis University, he defended, with highest distinction, his dissertation "Anscombe on Double Effect and Absolutism: An Inquiry into Modern Moral Philosophy and Traditional Morality." His work was directed by Dr. Gregory Beabout.
Throughout his undergraduate and graduate education, Dr. Plato has been actively involved in academic service, founding a philosophy club at Corban University, a philosophical society at Biola University's Talbot School of Theology, as well as planning, assisting, and directing multiple academic conferences in professional philosophy. Intermittently over the last decade, Dr. Plato has taught philosophy at Saint Louis University, Lindenwood University, and Kenrick-Glennon Seminary, in St. Louis. He has also previously taught Great Books at Biola University's Torrey Honor's Program.
Dr. Plato's area of specialization is moral philosophy. His current work centers on the philosophy of Elizabeth Anscombe and Peter Geach. Other areas of interest within moral philosophy include business ethics within the virtue tradition, contraception, marriage and family, moral absolutism, consequentialism, casuistry, and the concept of murder. Dr. Plato works at the intersection of moral philosophy and the philosophy of action, especially on the "principle of double effect." Additional research interests include the philosophy of religion (especially the problem of evil), epistemology, meta-philosophy, and the history of philosophy. Dr. Plato is also actively involved in integrative learning and is especially interested in the relationship between theology and philosophy, and, in particular, within the Franciscan Intellectual Tradition.
Ph.D., Philosophy-Saint Louis University, St. Louis, MO
M.A., Philosophy of Religion and Ethics, summa cum laude – Biola University, Talbot School of Theology, La Mirada, CA
M.A.,Coursework in New Testament Studies – Biola University, Talbot School of Theology, La Mirada, CA
B.S, Interdisciplinary Studies, summa cum laude – Corban Univeristy, Salem, OR