Franciscan Studies Minor Program Overview
Franciscan Studies enable students to appreciate the vast influence of St. Francis of Assisi and members of the religious movement that he inspired upon history, theology, and spirituality, philosophy, and world culture. Embracing clergy and laity, extending the arms of Christ to the poor and marginalized, evangelizing the world beyond Christendom, the Franciscan movement has been one of the most vibrant in the Church. It has left its mark upon the geography of America from Maine to Florida, and from California to Georgia. It is even represented in the United Nations. The holiness of many of its members has been recognized by canonization. The study of things Franciscan is appropriate at Franciscan University of Steubenville.
All Students of the University will derive knowledge and insight from a study of Franciscan view of the Christian life. Members of the Third Order of St. Francis, wetherFriars or Sisters of the Third Order Regular, all religious of Franciscan Third Order, members of the Secular Franciscan Order, and all members of the Franciscan family will find the program particularly enlightening and enriching. The Priestly Discernment Program of the University, in which young men discerning priestly and religious vocations live a spiritual life together in community, is an attractive option for young men preparing to enter Franciscan religious life. It is a valuable complement of the Franciscan Studies Minor.
This minor requires 18 credit hours (6 courses) of Franciscan Studies.
Inquire For More Information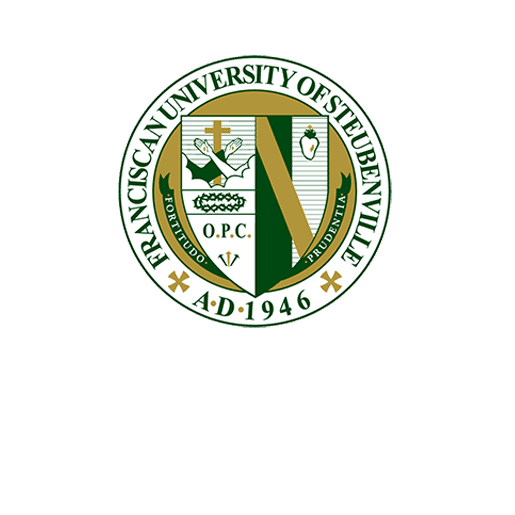 Be an Active Catholic Catechist
As a catechetics major, you can spread your passion for the Catholic Church and its teachings — both on the Steubenville, Ohio, campus and off. Get involved in Franciscan University's small faith communities, pro-life and mission work, youth evangelization and retreat ministry, Catholic music ministry, liturgical service, and Franciscan intramural and intercollegiate athletics.
[opn_navigator nav_position="right" nav_distance="10″ nav_opacity=".85″ icon_size="15″ bg_color="#21412a" icon_color="#ffffff" icon_hover_color="#ffc658″ on_row_bg_color="#ffffff" on_row_icon_color="#21412a" on_row_icon_hover_color="#ffc658″ tooltip_bubble="on" tooltip_font="font_family:Roboto Slab|font_call:Roboto+Slab|variant:700″ tooltip_font_style="font-weight:700;" tooltip_font_size="22″ tooltip_font_line_height="30″ scroll_effect="easeInOutQuad" icon_padding="padding-top:20px;padding-right:5px;padding-bottom:20px;padding-left:5px;"][opn_navigator_item title="Back to top" target_link="#top" icon="Defaults-arrow-up"][opn_navigator_item title="Program Details" target_link="#details" icon="Defaults-th-list"][opn_navigator_item title="Alumni Profiles" target_link="#alumni-profiles" icon="Defaults-comment"][opn_navigator_item title="Institutes & Centers" target_link="#institutes" icon="Defaults-bank"][opn_navigator_item title="Academic Excellence" target_link="#video" icon="Defaults-play-circle-o"][opn_navigator_item title="Program Faculty" target_link="#faculty" icon="Defaults-group"][/opn_navigator]