Online Theology Bachelor's Degree Program Overview
Your Catholic faith will come to life as you learn who God is and explore the mysteries he has revealed in Christ through the 100% online bachelor's degree in theology program at Franciscan University of Steubenville in Ohio. You'll build on Franciscan University's liberal arts core curriculum with engaging courses in three fundamental areas of theology: doctrine, morals, and Scripture. Answer God's call and prepare to serve the Church in your unique vocation through Franciscan University's online theology degree.
What is theology?
Theology goes beyond just knowing the faith. Theology at Franciscan University seeks to deepen your understanding and love of God, while helping you appreciate the beauty of his revelation in Jesus Christ and through his Holy Spirit. With this online theology program, you will experience a dynamic orthodoxy that illuminates the God's eternal truth and remains passionately faithful to Scripture, Tradition, and the Magisterium of the Catholic Church.
Explore More of the Online Theology Bachelor's Degree Program
Here are just a few other ways Franciscan's online theology bachelor's degree program stands out from the rest:
Fully online: Because Franciscan's theology bachelor's degree is 100% online, you can earn your degree from anywhere in the world while you meet family, work, and other life commitments.
Competitively priced: This online theology degree is highly affordable.
Catholic faith focused: As one of the few theology programs in the world that faithfully hands on the Catholic faith in its entirety, the online theology degree at Franciscan will enrich and empower your faith so you can confidently witness to Christ and work to transform the culture.
Relevant electives: Take elective courses, such as Theology of the Body, Sexual and Medical Morality, and Christian Marriage, and cement your learning with a thesis or senior seminar.
Graduate studies: With only one additional year you can earn an online Master of Arts in Theological Studies degree through the 4 +1 program at Franciscan. Through our partnership with Catholic University of America, you can take courses for the canon law track of the online theology bachelor's degree and gain acceptance into Catholic University's Licentiate in Canon Law (JCL) program.
Strong connections: Network with other students in the online theology degree through Steubenville Conferences in Ohio and in-person networking opportunities offered through our partnerships with the Diocese of Venice in Florida and the Institute of Catholic Theology in Phoenix, Arizona.
Internationally renowned faculty:
The online theology degree program faculty are the same theological experts who teach on the Ohio campus. They are nationally and internationally known for excellence and faithfulness in teaching, scholarship, and service to the Church.
First in the nation: In 1989, Franciscan became the first Catholic university in the nation to administer the Oath of Fidelity to its theological faculty. Since then all theology faculty and other appropriate personnel have taken the oath, including current Franciscan faculty and distinguished Catholic authors Dr. Scott Hahn, Dr. Regis Martin, Dr. Alan Schreck, and Dr. Mark Miravalle.
What Can You Do With a Theology Online Degree?
Through the online theology degree at Franciscan University in Ohio you'll be prepared to answer God's call to live as salt and light in the world, fulfilling your personal vocation in your family, your community, and your workplace. Franciscan theology graduates are highly sought after by a variety of employers, including in Catholic dioceses, parishes, ministries, universities, and institutions, because they are faithful, joyful, and intellectually well-formed disciples. The Franciscan online theology degree also prepares you to continue your studies at the graduate level.
Graduate Programs for Theology Majors
Potential Job Titles for Theology Majors
Catholic Youth Ministers
Community Outreach Coordinators
Missionaries
Parish Catechetical Directors
Priests
Consecrated Religious
Rite of Christian Initiation of Adults (RCIA) Directors
Theology and Religion Teachers
Learn from the same world-class professors who teach in our classrooms. Experience interactive classes online that aids and encourages your learning, plus an online community that inspires your faith.
Inquire For More Information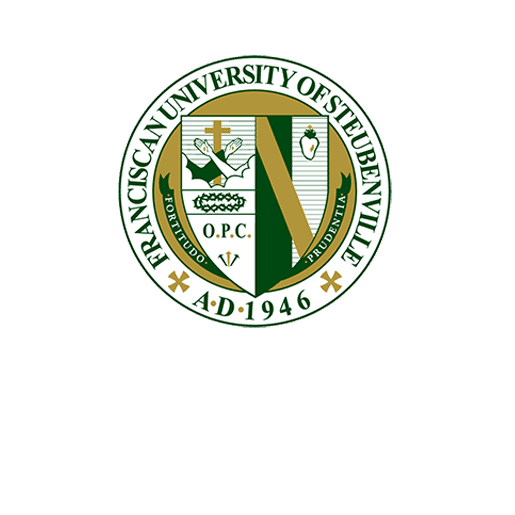 Earn Your Theology Master's Degree
Through the 4+1 program at Franciscan University, you can earn your bachelor's in theology and master's in theological studies in just five years — entirely online.
The Catechetical Institute
The Catechetical Institute at Franciscan University exists to train and support the key catechists in any situation—priests, deacons, parents, or laity, whether professional or volunteer. Through conferences, online workshops, videos, audio, personal mentorship, and a wealth of resources produced by Franciscan University, all involved in the work of catechesis will find new ideas, new approaches, new techniques, and a new confidence to do the work of catechesis.
Programs Related to the Online Bachelor's in Philosophy
Still undecided? You might also be interested in these other bachelor's degree programs at Franciscan University that are similar to the online philosophy bachelor's degree.